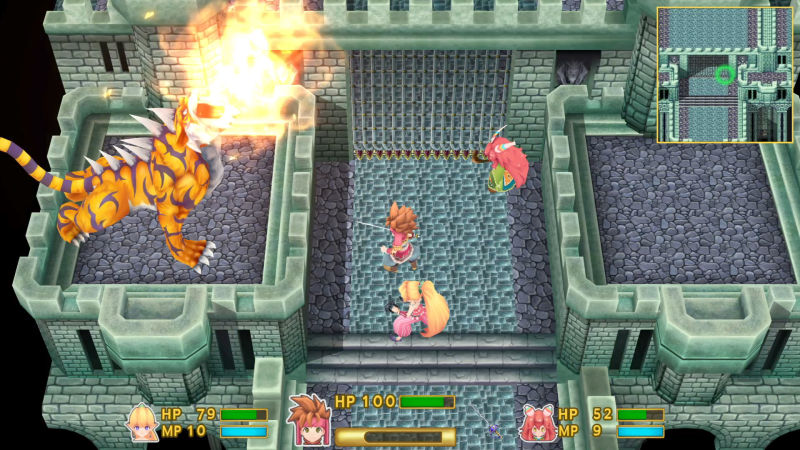 Secret of Mana – Remake für PS4, Vita und Steam angekündigt
Wohl eines der schönsten und beeindruckendsten RPGs der frühen 90er Jahre wird ein Remake bekommen. Wie lange haben wir auf diese Meldung gewartet? Kein anderes Spiel als Secret of Mana wird ein solches bekommen, wie aus einer offiziellen Meldung hervorgeht.
Square Enix hat das Remake für den 15. Februar 2018 in Nordamerika angekündigt und spricht damit wohl einigen Fans aus der Seele. Das Spiel kam als erstes für das SNES (Super Nintendo) unter dem Titel Seiken Denetsu 2 im August 1993 auf den japanischen Markt. Außerhalb Japans wurde das Spiel unter dem Titel Secret of Mana bekannt und veröffentlicht. Bereits in diesem Jahr wurde die Mana Collection für Nintendo Switch in Japan veröffentlicht. Enthalten waren die Titel Final Fantasy Adventure, Secret of Mana und Seiken Denetsu 3.
Das Remake, welches nun für die Playstation 4, PS Vita und Steam erscheinen wird, soll der News nach auch über englische Sprachausgabe verfügen und ist auch in den aktuellen PS4 Spiele Charts enthalten. Diese sogenannten Voice overs dürften somit sehr interessant sein, da sie im originalen Spiel nicht enthalten waren. Auch werden neue musikalische Arrangements enthalten sein sowie ein verbessertes Gameplay. Interessanterweise soll das Remake von Secret of Mana auch ein Online Multiplayermodus beinhalten, bei dem bis zu 3 Spieler gleichzeitig spielen können. Angesichts der ohnehin schon damals vorhandenen Multiplayer Möglichkeit in Secret of Mana für Fans eine tolle Möglichkeit um den Genuss des Spiels auch online teilen zu können.
In Japan wird es zum Remake auch eine Limited Edition geben, allerdings ist noch nicht bekannt ob es diese auch in Nordamerika oder Europa geben wird. Wann der Release in Deutschland bzw Europa sein wird ist ebenfalls noch nicht bekannt. Vermutlich dürfte dies aber nicht lange auf sich warten lassen. Wir können es kaum erwarten Secret of Mana in einem Remake endlich spielen zu können – und das über 20 Jahre nach dem eigentlichen Release des Titels. Man darf also gespannt sein ob sich Square Enix möglicherweise noch einem weiteren Titel dieser Serie widmen wird und das Setting somit nochmal neu auflegen wird.
Trailer
Bildquelle: (c) Square Enix