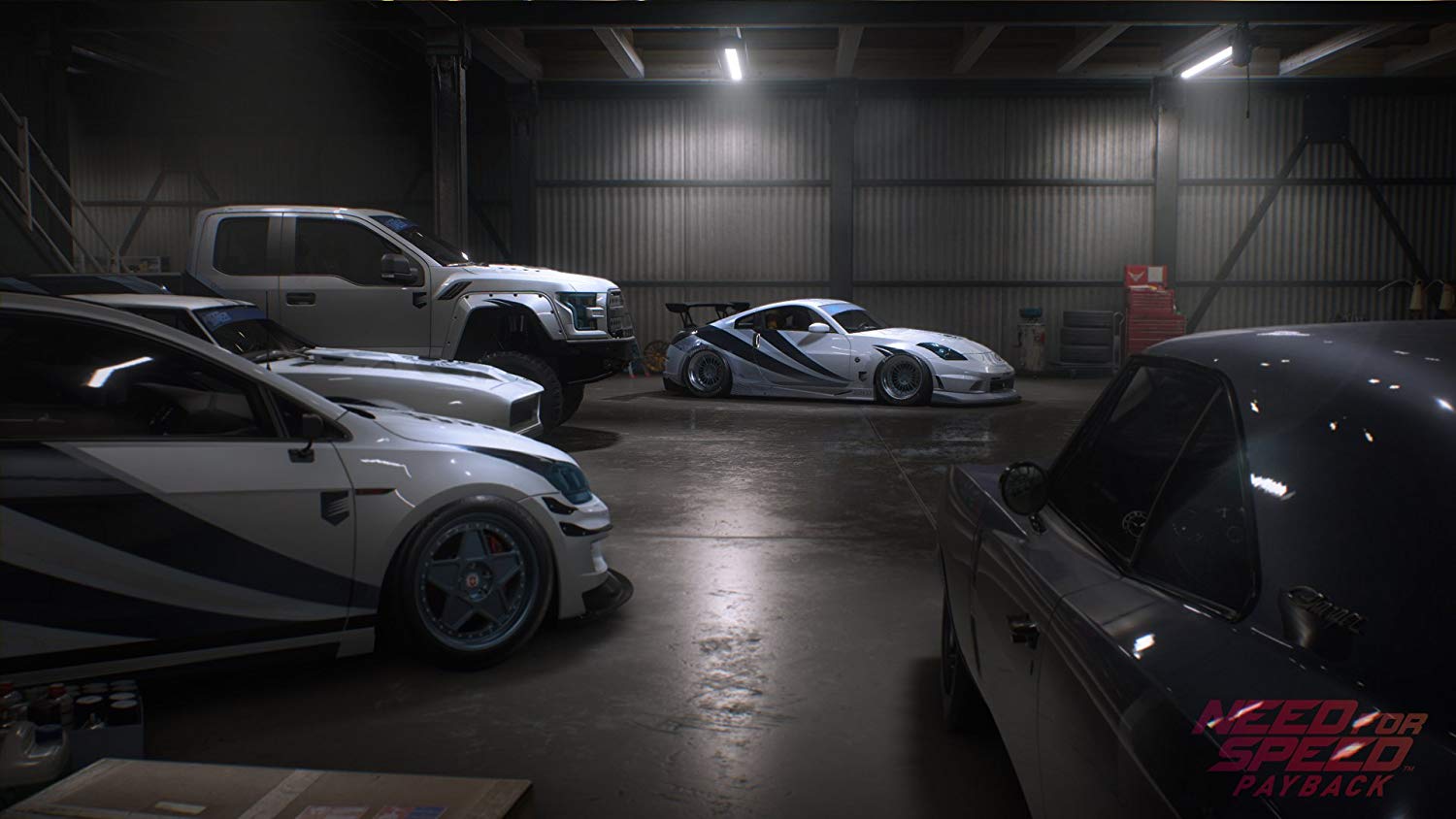 Auto Spiele PS4 – die 10 besten Games 2019
Die besten Auto Spiele für die PS4 – wenn du schon länger auf der Suche nach den besten Auto Spielen für deine PS4 bist, dann bist du bei uns nun genau richtig.
Wir haben uns einmal die verschiedenen Auto Spiele für die PS4 angesehen und ein eigenes Ranking hierfür erstellt. So gibt es nach unserer Auffassung sehr viele gute Auto Spiele für die PS4, dennoch haben wir hier einmal die besten 10 zusammengefasst.
Platz 01: Need for Speed Payback
[amazon box="B071FR6VZ6″]
Need for Speed steht schon seit jeher für bahnbrechende Action und Unterhaltung. Mit dem Titel Need for Speed Payback hat sich Electronic Arts einen sehr guten Ruf erarbeitet, denn der Titel sorgt für rasante Action. Im Spiel spielst du in der Unterwelt von Fortune Valley, nachdem die Crew auseinandergerissen wurde. Bei diesem PS4 Autospiel steht dein Wagen komplett im Mittelpunkt und du kannst diesen vom Schrottwagen bis hin zum Superboliden tunen. Rasante Action in feinster Manier sind bei diesem Auto Spiel für die PS4 garantiert.
Platz 02: The Crew 2
[amazon box="B072QY8Z8Q"]
Auch ein wichtiger Kandidat im Rahmen der Auto Spiele PS4 ist das Spiel The Crew 2. Das Game ist der Nachfolger vom berühmt berüchtigten ersten Teil von Ubisoft, der ebenfalls schon neue Maßstäbe im Bereich der Auto Spiele PS4 gebrochen hat. In The Crew 2 kannst du das belebte New York, die Ströme des Missisippi, den herausragenden Grand Canyon und viele weitere Orte bereisen. Im Spiel selbst findet auch ein nahtloser Übergang zwischen Fahrzeugen wie Autos, Motorrädern, Booten und auch Flugzeugen statt, weshalb du hier bahnbrechende Action erleben kannst. The Crew 2 gehört damit für uns auf den zweiten Platz der Kategorie Auto Spiele PS4.
Platz 03: Project Cars 2
[amazon box="B06WP1ZSC7″]
Ein ebenfalls bahnbrechender Titel ist das Spiel Project Cars 2. Dieses PS4 Rennspiel stellt die nächste Evolution im Rahmen der mit mehreren Preisen ausgezeichneten Rennspielserie da. Aufregende Rennbedingungen, mehr als 170 Fahrzeuge, umfangreiche Strecken und volle Unterstützung für VR Headsets sorgen für einen authentischen Realismus auf der Strecke. Der Wettbewerb ist intensiv und beim Onlinemodus kannst du dein Können gegen viele andere Fahrer unter Beweis stellen. Project Cars 2 gehört somit für uns klar in die Kategorie der besten Auto Spiele für die PS4.
Platz 04: Gran Turismo Sport
[amazon box="B018UK8NQ4″]
Wenn es um PS4 Rennspiele geht, dann darf eines niemals fehlen. Gran Turismo ist in jeder Form ein sehr umfangreiches Rennspiel, was vor allem in der Sport Variante sehr umfangreich ist. Gran Turismo Sport unterstützt auch VR und ist damit ein noch intensiveres Rennspiel als die Titel zuvor. Bei Gran Turismo Sport hast du die neuesten Straßenfahrzeuge zur Auswahl und kannst diese in noch nie da gewesener Präzision steuern. Mit dabei sind viele neue Strecken wie beispielsweise der Tokyo Expressway. Echte GT3 Traumwagen stehen dir hier zur Verfügung, weshalb Gran Turismo Sport auch in die Kategorie Auto Spiele PS4 gehört.
Platz 05: F1 2019 – Legends
[amazon box="B07R44PGS5″]
Ein ebenfalls nicht zu unterschätzendes Rennspiel ist die aktuelle F1 2019 Version. Dieses Spiel sorgt mit seinem Realismus, seinem puren Adrenalin versprühenden Racingerlebnis für bahnbrechende Action. F1 2019 gehört für uns dank des Realismus klar in die Kategorie der Auto Spiele PS4 Top 10. Es ist das offizielle Formel 1 Spiel zur aktuellen Saison und enthält alle offiziellen Fahrer, Teams, Fahrzeuge und Strecken aus der aktuellen Saison 2019. Zahlreiche Boni sind enthalten und dazu auch noch zwei extra Classic Cars der F1 Legenden Senna und Prost. Realismus pur ist also bei F1 2019 angesagt.
Platz 06: Dirt 4 – Day One Edition
[amazon box="B06XWQD4HW"]
Heiße Offroad Action gehört ebenfalls in die Kategorie Auto Spiele PS4. So kannst du dies mit der Klassikerreihe Dirt auf jeden Fall erleben. Dirt 4 bietet dir einen bahnbrechenden Spielspaß, der sich gewaschen hat. Kombinierte Spannung und Realismus pur sind bei Dirt 4 an der Tagesordnung. Das Rennspiel bietet dir einen absoluten Nervenkitzel durch die sehr realistisch gestalteten Offroad Strecken. Auto Spiele PS4 wie Dirt 4 sind sehr realistisch gestaltet und bei diesem Teil ist zudem auch ein umfangreicher Strecken Editor mit dabei. So kannst du dir deine eigenen Strecken auch zusammenbauen und dazu noch online gegen andere Fahrer antreten.
Platz 07: Team Sonic Racing
[amazon box="B07D4ZSQYG"]
Fun Racer Spiele gehören für uns ebenfalls in die Kategorie der Auto Spiele PS4. Spaß und Action gehört ebenfalls zu einem guten Rennspiel dazu, weshalb wir uns diesen Titel ebenfalls in die Top 10 der besten PS4 Rennspiele genommen haben. Team Sonic Racing bietet einen spannenden Koop Modus für bis zu 12 Spielern und dazu noch einen klassischen Koop Modus im Split Screen für bis zu 4 Spieler. Im Spiel hast du verschiedene Angriffsmöglichkeiten durch verschiedene Objekte, sodass du in bester Mario Kart Manier gegen andere Spieler antreten kannst. Team Sonic Racing macht Spaß und süchtig.
Platz 08: Crash Team Racing: Nitro-Fueled
[amazon box="B07L72RCFX"]
Ein ebenfalls toller Fun Racer ist das Spiel Crash Team Racing. Hier erlebst du ähnliche Action wie in Team Sonic Racing und kannst dabei auf die beliebten Crash Bandicoot Charaktere zurückgreifen. Das macht richtig Spaß. Heize mit den Karts durch atemberaubende Strecken und kämpfe online gegen deine Mitstreiter in spannenden Duellen. Das Spiel ist die Neuauflage vom Klassiker und gehört für uns ebenfalls in die Kategorie der Auto Spiele PS4, da es einfach Spaß macht und einen tollen Fun Faktor hat.
Platz 09: Driveclub
[amazon box="B00BJ3CX02″]
Ein ebenfalls nicht zu vernachlässigendes Rennspiel ist das Spiel Driveclub. Dieses Spiel bietet auch eine sehr gute VR Unterstützung, weshalb gerade VR Fans hierbei sehr stark auf ihre Kosten kommen dürften. Im Spiel hast du Zugriff auf voll lizensierte Fahrzeuge von namhaften Autoherstellern mit vielen detailreich dargestellten Interieurs sowie Exterieurs. Die messerscharfe und zugleich auch sehr detailreiche Grafik tut hierbei ihr übriges. Driveclub ist eines der besten Auto Spiele PS4 und einen Kauf absolut wert.
Platz 10: WipeOut: Omega Collection
[amazon box="B06Y12X4KW"]
Dieses Spiel kann man zwar nicht ganz in die Kategorie der Autospiele legen, da es bekanntlich keine richtigen Autos beinhaltet, allerdings bietet WipeOut einfach eine bahnbrechende Action und Unterhaltung, weshalb man es dennoch in die Kategorie der Auto Spiele PS4 einsortieren kann. Die Action von WipeOut mit den rasanten Technobeats sucht hierbei seinesgleichen und du wirst von der atemberaubenden Action sehr fasziniert sein. Ein rasanter Onlinemodus bietet hierbei noch mehr imposante Action. Auto Spiele PS4 sind ohne ein Wipeout nicht mehr zu erklären. Der PS1 Klassiker setzt auch knapp 20 Jahre nach dem ersten Teil nochmals Maßstäbe und gehört daher für uns auch in die Kategorie Auto Spiele PS4.
Tipp: PS4 Spiele Charts